Specifications
Description
Images
Ordering information
Super Widefield 10X High Eyepoint eyepieces, F.N.22 are standard.
Available with comfortable Siedentopf type binocular or trinocular viewing head.
Tilting ergonomic binocular head-Adjustable vertically from 10° to 50°. (Optional)
Smooth-operating ball bearing quintuple nosepiece provides effortless objective changes.
New improved U. Plan infinity corrected objectives.
191 mm x 128mm ceramic coated left or right-handed, flat top mechanical stage.
Newly designed Abbe 1.25 N.A. condenser in quick change dovetail mount.
Choice of LED or 30 watt halogen illumination with automatic voltage sensing power supply.
New improved design, smooth operating, adjustable field iris.
Brightfield, Darkfield, Phase Contrast and Polarized light modes available.
The Meiji Techno MT5000 Series of biological microscopes have been designed as versatile, modular, ergonomic microscope systems which are ideally suited for use in education, research, or advanced laboratory applications. Ergonomic placement of controls allows for stress free operation, increased efficiency and maximum productivity.
The MT5000 Series offers an outstanding range of features and optical performance with an emphasis on all newly engineered high performance optics based on Meiji Techno's ICOS Optical System (Infinity corrected Optical System). The new optics, provide exceptionally bright, crisp images, with good color rendition and superior flat fields of view.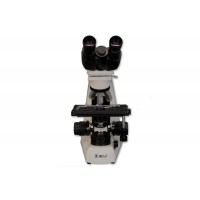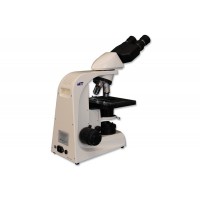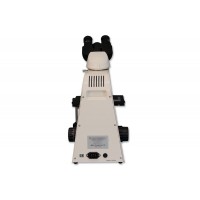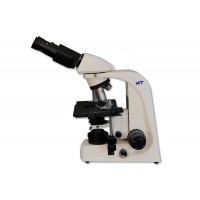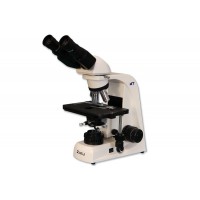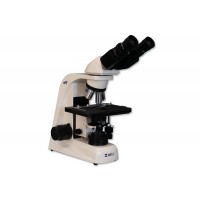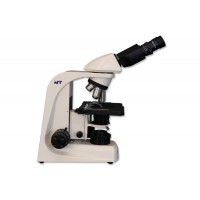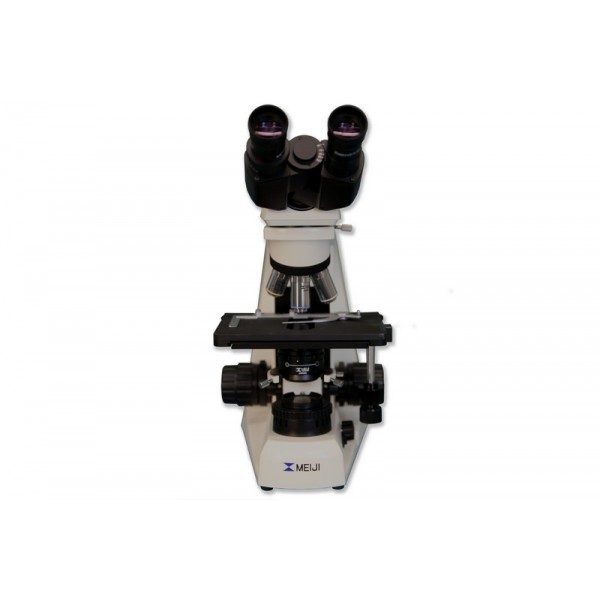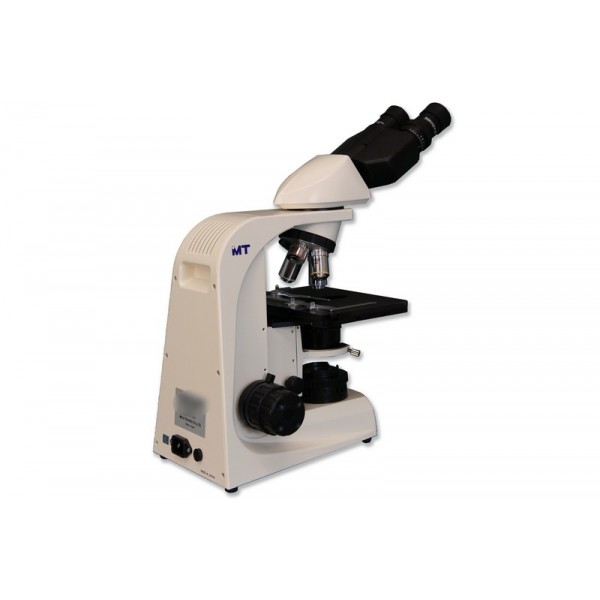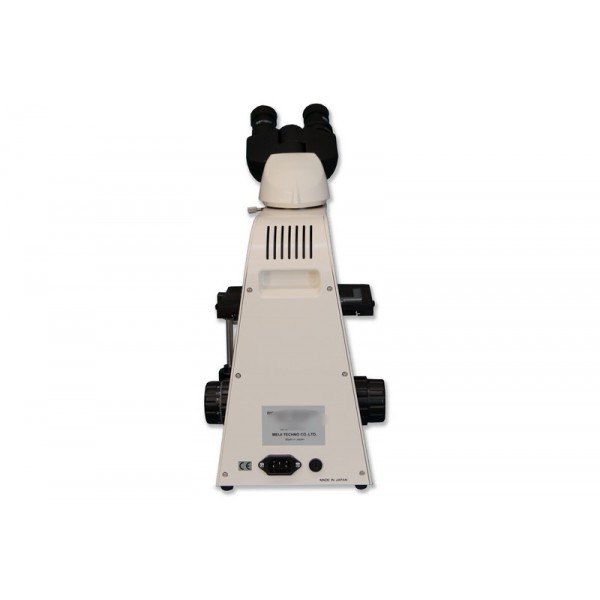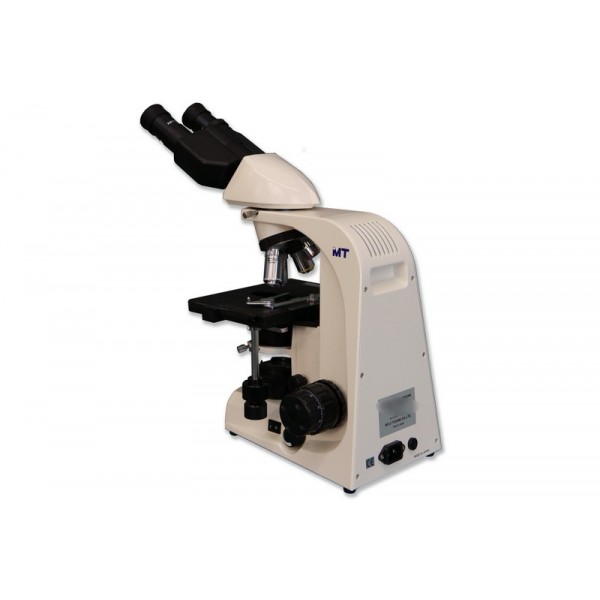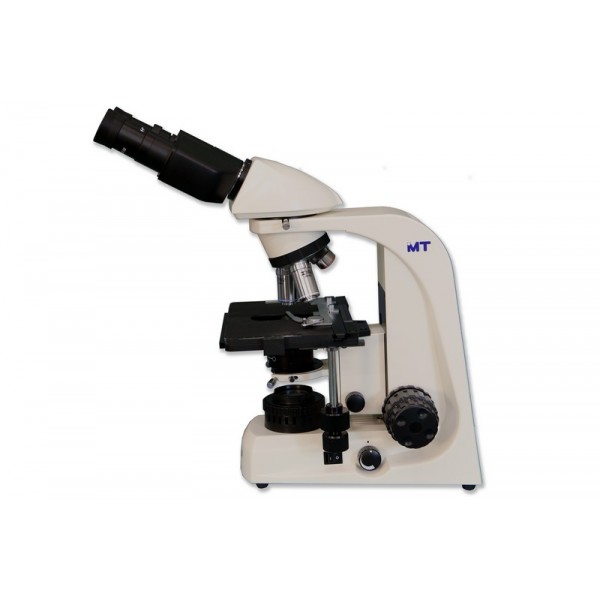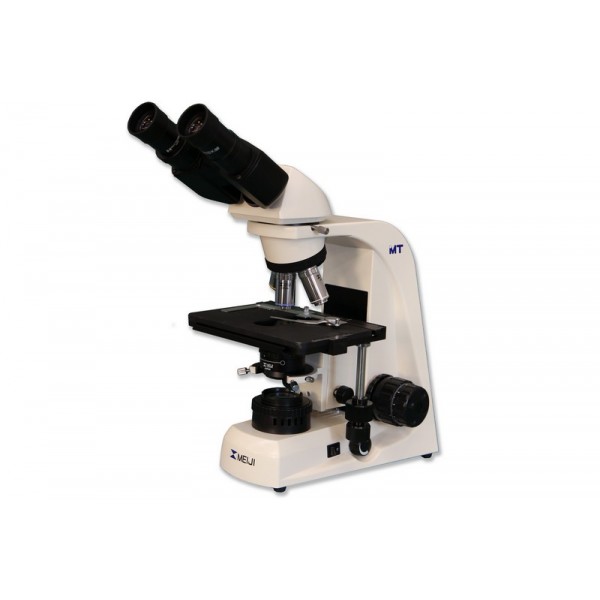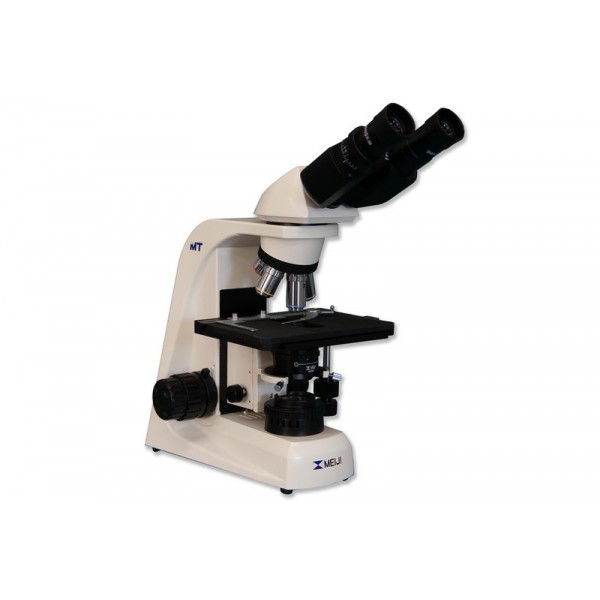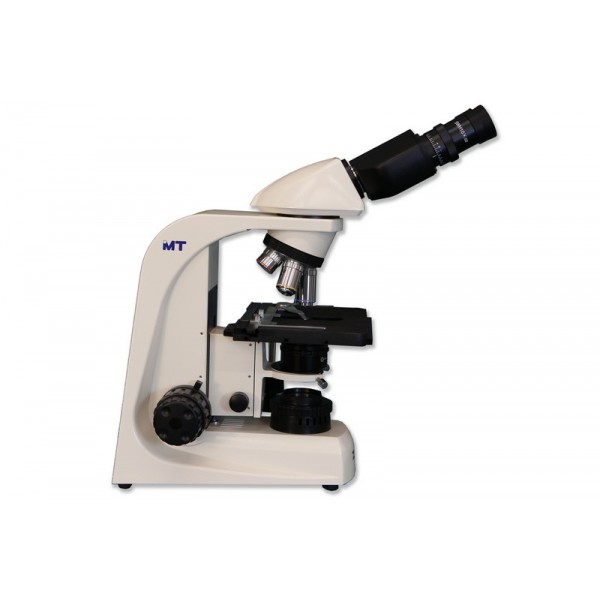 MT5000 Series ORDERING INFORMATION
Model
Body
Eyepieces
Objectives
Condenser
Illuminator
MT5200L
Binocular
SWH10x F.N. 22 (O.D. 30 mm)
U Plan 4x, 10x, S40x, S100x (oil)
Abbe N.A. 1.25
LED Koehler
5 V
MT5300L
Trinocular
MT5200H
Binocular
Halogen Koehler
6 V, 30 W
MT5300H
Trinocular
MT5210L
Binocular
U Plan Phase Ph10x, Ph20x, Ph40x, Ph100x (oil)
Zernike type Phase N.A. 1,25
LED Koehler
5 Вт
MT5310L
Trinocular
MT5210H
Binocular
Halogen Koehler
6 V, 30 W
MT5310H
Trinocular
Supplied in styrofoam case with dust cover and instruction manual.
Left hand control mechanical stage is optional. Please indicate "MA917L Left hand control mechanical stage" in the description when ordering.
Viewing Heads
Units are supplied with either a standard Siedentopf type binocular or a Siedentopf type trinocular head. Both binocular and trinocular heads have the eyetubes inclined at 30° with the left eyetube having a graduated diopter adjustment. The interpupilliary distance is adjustable between 53mm~75mm to accommodate a wide range of users. When the 80/20 beamsplitter of trinocular head is engaged for photo work, 80% of the image is directed to phototube and 20% to the eyetube.
Optional Ergonomic Tilting Binocular Viewing Heads
Meiji Techno's MT5000 Series offers an optional tilting binocular ergonomic viewing head (MA975) which can be used in conjunction with a photo/video attachment with a sliding 80/20 beamsplitter. The tilting binocular head is adjustable from 10°to 50°. The left eyetube has a graduated diopter adjustment. The interpupillary distance is adjustable from 53mm - 75mm. When the 80/20 beamsplitter is engaged for photo work, 80% of the image is directed to phototube and 20% to the eyetubes.
Objectives
Newly designed U. Plan objectives provide exceptionally bright, crisp images with good color rendition and superior flat fields of view.
Stage (Ceramic Coated, Low Profile, Right & Left Hand Stages)
All MT5000 models offer newly designed, double plate, ceramic coated stages, 191 mm(W) x 128mm(D) with rounded comers and low positioned drop down ergonomic X-Y coaxial controls. The easy to clean ceramic coating allows for a smooth exchange of specimens while offering maximum protection to the stage surface from abrasions and wear. The super hard coating is durable and rugged enough to provide years of demanding use.
Ergonomically Placed Focusing Controls
The MT 5000 Series Biological Microscopes have been designed with improved ergonomics which means operators can work without repetitive stresses. Low positioned controls allow the operator to work with their forearms relaxed on the working surface so ergonomically placed controls are within easy reach.
Range of travel: 23mm, Rotation of fine focus: 0.2mm per revolution.
Improved Design Field Iris
Meiji Techno's M T5000 Models feature a newly designed field iris. Unmounted 40mm filters can be quickly and easily placed directly into the filter tray above the aperture. The improved design iris control operates and tracks very smoothly and predictably facilitating accurate iris control with improved usability.
Condenser
The MT5000 Series employs an all new condenser design with quick-change dovetail mount which makes switching between condensers really fast and easy.
We reserve the right to change the specification without notice.