Specifications
Description
Images
Ordering information
Eyepieces
One KHW10X Focusing eyepiece with cross-line and guide pin, FN20 and one KHW10X eyepiece, FN 20.

Viewing Head
The MT9900 Series Polarizing Microscope is equipped with either Siedentopf type binocular or Siedentopf type Trinocular viewing head, inclined at 30°, with reticle angle adjustment system. Optional tilting ergonomic binocular head - adjustable vertically from 10° to 50° available.

Objectives
Strain Free Plan POL Objectives for Transmitted Light Work
Plan 4X/N.A.0.10, W.D. 15.3mm
Plan 10X/N.A.0.25, W.D. 7.3mm
Plan 20X/N.A.0.40, W.D. 5.0mm (Optional)
Plan 40XS/N.A.0.65, W.D. 0.72mm
Plan 60XS/N.A.0.85, W.D. 0.2mm (Optional)
Plan 100XS/N.A. I.25, W.D. 0.14mm (Optional)
Strain Free Plan POL Objectives for Incident Light Work
Plan 4X/N.A.0.10, W.D. 15.3mm (Optional)
Plan 10X/N.A.0.25, W.D. 7.3mm (Optional)
Plan 20X, N.A.040, W.D. 5.2mm (Optional)
Pian 40X, N.A.0.65, W.D.0.81mm (Optional)

Stage
175mm diameter, ball bearing, circular rotating stage. Graduated 360°, with 1° increments and Vernier reading to 0.1°, Includes 2 stage clips. (Optional attachable mechanical and point counting stages are available.)

Illuminator
Built-in transmitted Koehler illuminator with continuously variable intensity control and LED or 6V 30W halogen lamp. Automatic voltage (100V to 240V) sensing power supply and variable rheostat control are built into the microscope base.
Vertical illuminator with full Koehler design equipped with LED or 6V 30W Halogen light source, field iris, aperture iris and filter slots. With a separately cased automatic voltage (100 to 240V) sensing power supply and variable rheostat control.

Intermediate Tube
Orthoscopic / Conoscopic intermediate tube with a rotatable analyzer, focusable and centerable Bertrand lens and a compensator slot to accept test plates. (Compensator slot accepts a Slider for 1st Order Red plate and 1/4 wave plate, or optional Quartz Wedge and Senarmont compensator)

Polarizer
Rotatable polarizer in swing-out mount with detent at 0°and 90°.
Rotatable analyzer

Focusing Controls
Ergonomically low positioned coaxial coarse and fine focusing controls. Coaxial fine focus knob: 0.2mm per rotation; Coarse: 26mm per rotation; Minimum reading 2 microns on right side knob.

Filter
29.8mm diameter daylight-type blue filter for correct color rendition.

Compensators (Test Plate)
Three position test plate with one 1st Order Red Plate (Gypsum, first order red, sensitive tine 530nm) and, one 1/4 wavelength retardation plate (Mica 147.3nm) and with one empty position.

Nosepiece
Reverse Facing, quadruple, ball bearing nosepiece with one fixed and three centerable objective positions. Two objective centering tools are included.


Meiji Techno's MT9900 Series of Polarizing Microscopes are versatile, modular, ergonomic micro-scope systems designed for student, advanced educational or routine laboratory use. The MT9900 Series features all new Strain Free Infinity Corrected Optics, large ceramic coated rotatable stages with greater wear resistance, and a newly engineered ergonomically designed frame that is rugged, stable, yet flexible with a slim compact footprint that fits nicely in your workspace. A perfect instrument for Geology and Petrology applications.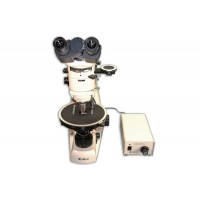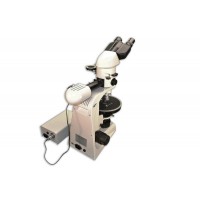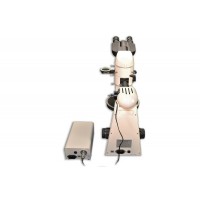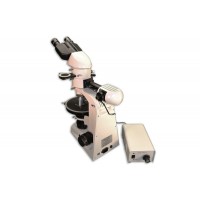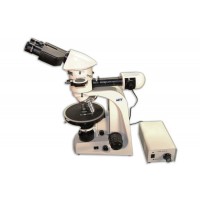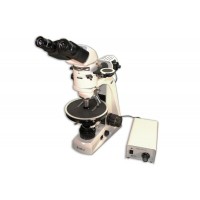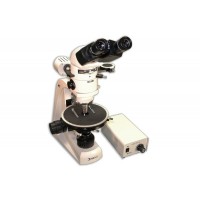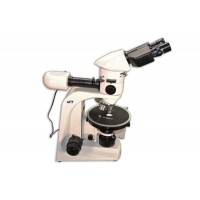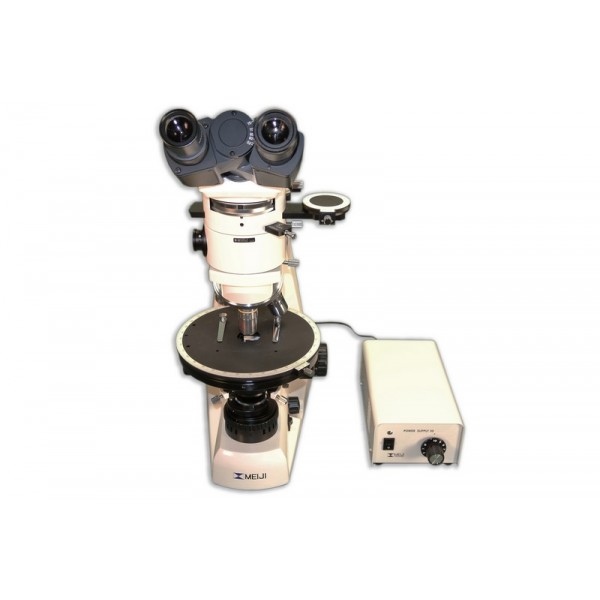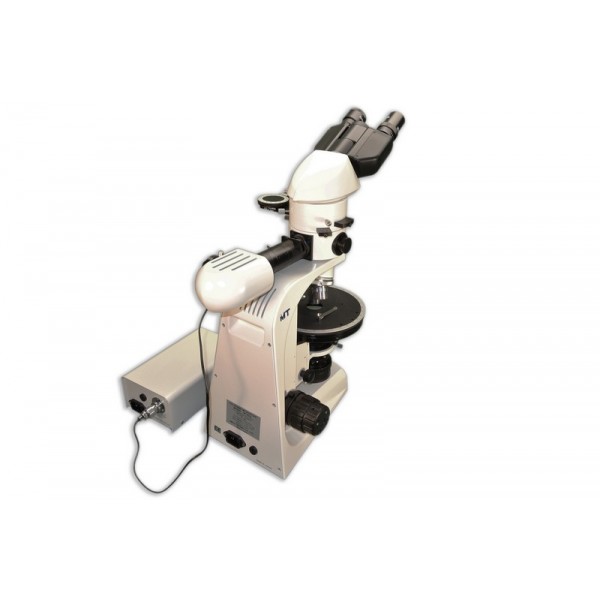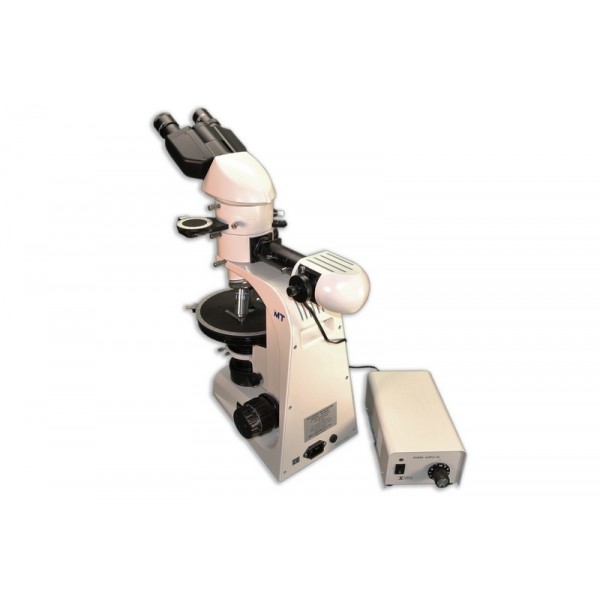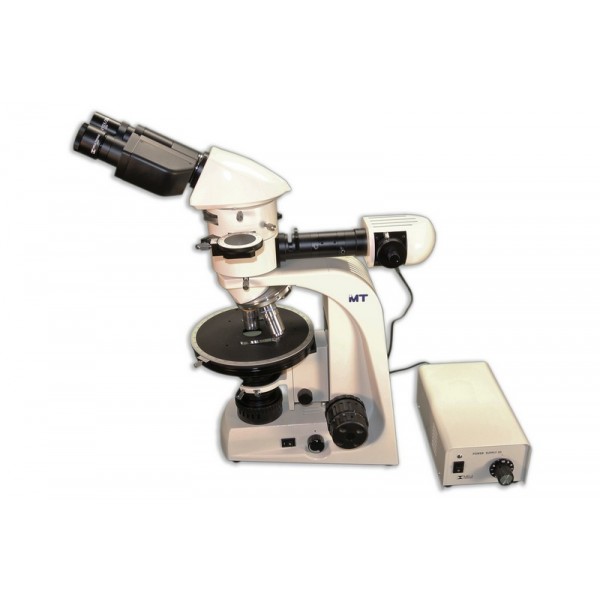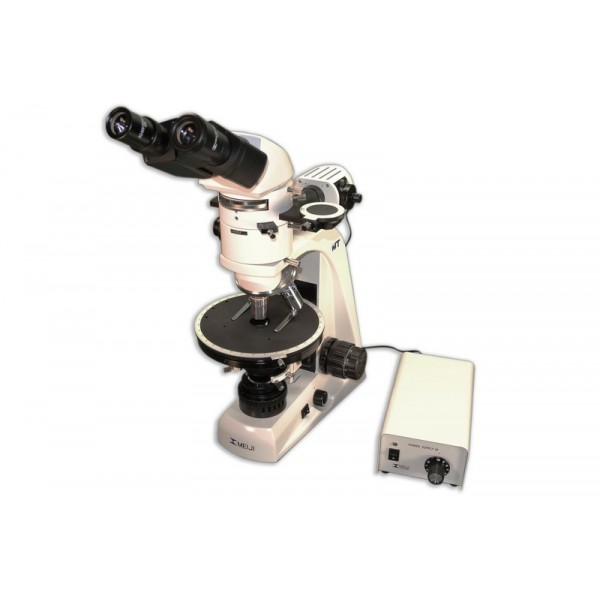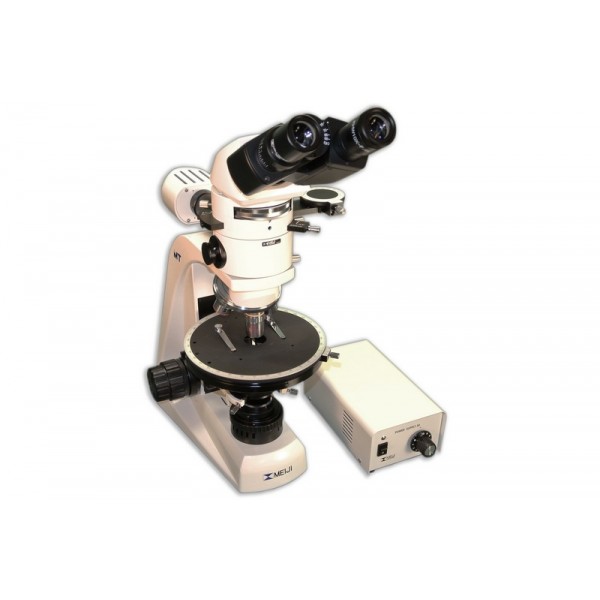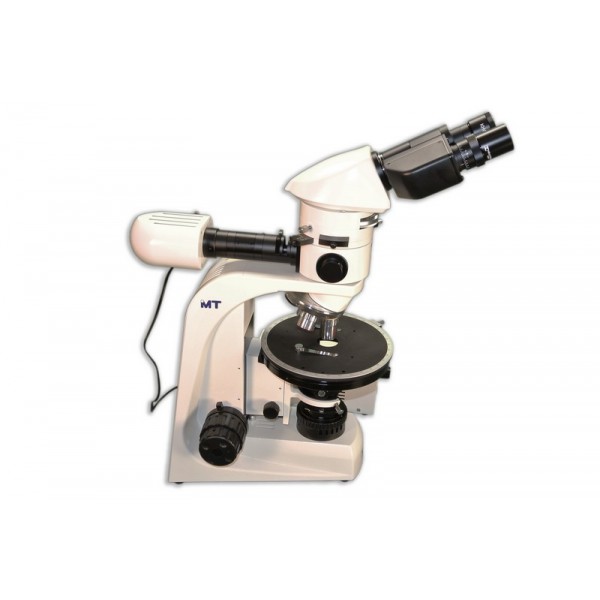 MT9900 Series ORDERING INFORMATION
Model
Body
Eyepieces
Objectives
Stage
Condenser
Illuminator
MT9920
Binocular
KHW10x F.N. 20 (O.D. 23,2 mm)
Strain Free Plan 4x, 10x, 40x
Rotatable with 360° graduation with vernier
Strain Free Abbe N.A.1.25 Swing out top lens
Transmitted light Koehler LED or 6V 30W Halogen and Incident light Koehler LED or 6V 30W Halogen MT9930 Trinocular (Siedentopf)
MT9930
Trinocular
MT9920L
Binocular
LED Illuminator
MT9930L
Trinocular
We reserve the right to change the specification without notice.